» Your leagues have been the best run and best value I have ever found online «
» DataForce is amazing! I love this website and I hope to be here for years to come «
» I have played on many sites throughout the years and I have NEVER experienced customer service like this! «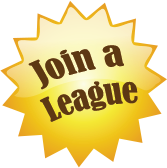 Fantasy Football Season-Long Money Leagues
Looking for simply the best fantasy football experience anywhere?
DataForce offers a wide variety of season-long, NFL fantasy football money games for you to join in our lobby, including several flavors of Redraft Leagues and Dynasty Leagues. All leagues contain ten, twelve or fourteen teams, so you'll be competing head-to-head each week against other owners, and all DataForce leagues share a similar set of rules for player scoring.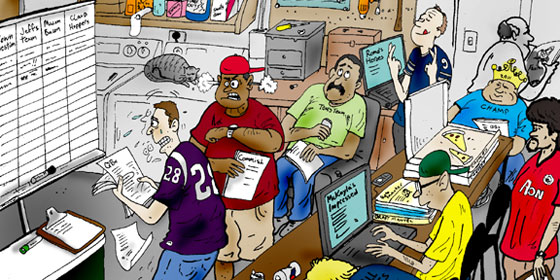 Games Hosted at DataForce Fantasy Football and at MyFantasyLeague
DataForce offers a choice of two platforms:
DataForce Fantasy Football's own hosting software provides a simple, friendly user interface that integrates nicely with DataForce tools, such as trade reviews and The Wonk.
MyFantasyLeague.com offers sprawling, robust software with intergration to many more 3rd-party analysis tools.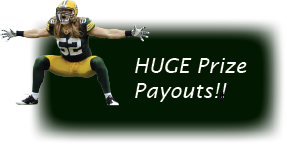 Generous Prize Return
DataForce is proud to offer the best fantasy football experience on the internet with the best prize payouts you'll find anywhere. Check out how we compare to the competition at Cheat Sheet Warroom! We offer six levels of contests in our Season-Long Leagues, from $20 to $1000, and charge only a flat $12 commissioner fee for copper through silver leagues (slightly more for ruby, gold and platinum). If you choose a league running on MyFantasyLeague.com, there is an additional $6 hosting fee, and all leagues have a small regulatory fee now that we've entered the age of fantasy football regulation by several states. All other money goes into the prize fund!
Standard lineups
Flex lineups
Superflex lineups
Deep lineups
IDP lineups
Redraft leagues
Dynasty leagues
Keeper leagues
Legacy leagues
Contract leagues
Salary cap leagues
Contender leagues
Guillotine leagues
Playoff leagues
Tin baby: $20
Copper: $50
Bronze: $100
Silver: $200
Gold: $500
Platinum: $1000
Diamond: $3000
Trading or no trading
Weekly lineups or bestball
What Is a Redraft League?
Single-year leagues are sometimes called "redraft leagues" because you draft a new team from scratch every year. This is the most common type of traditional fantasy football. Owners take turns selecting players during the draft until each owner has a roster of 18 real-life NFL players for their team. Then, each week of the NFL season you select players to be in your starting lineup, and these players contribute to an overall game score. We have several different lineups for you to choose from.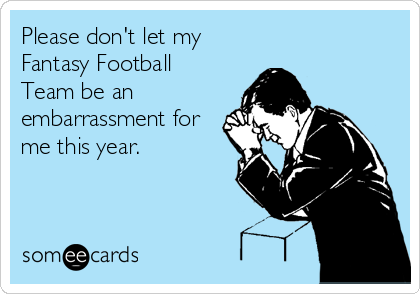 What is Bestball Fantasy Football Scoring?
Any league can be a bestball league, whether redraft or some form of multi-year league. "Bestball" simply means that you don't have to set lineups each week. The computer automatically selects those players who scored the highest from your team.
For many people, the selection of starting players each week is an agonizing decision. Footballs bounce in crazy directions, so it's hard to guess which players will perform best each week, and one wrong guess can easily cost you the game. Bestball leagues remove the agony of choosing, while preserving team-improvement activities like waivers and trading.
What Is a Draftmaster League?
In draftmaster leagues, you don't have to make any decisions after the draft. No free agency, no trading, no setting lineups. Draftmaster leagues are bestball leagues, so the computer selects the optimal lineup for you each week.
Draftmaster leagues are for owners who don't want to be bothered with the day-to-day maintenance of their leagues. Often called one-and-done leagues or draft-n-go leagues, it's possible to participate in many more simultaneous draftmaster leagues than other formats because owner involvement is over as soon as the draft ends.
How Do Contender Leagues Work?
Want to aim a little higher than a twelve- or fourteen-team league? You're looking for a contender league, then. In this format, four leagues of twelve teams are joined at the hip. You'll play each of the other teams in your own twelve-team league, and then have a short one-week playoff within your league to determine the four teams which will advance further.
The four advancing teams then join the best teams from your three sister leagues to form a sixteen-team four-week playoff race competing for a grand prize. This means you're essentially joining a 48-team contest, making for a more exciting prize fund.
How Do Guillotine Leagues Work?
These are "last man standing" leagues, and the 16-week season is divided into two phases: [1] An accumulation phase, during which teams compete to earn additional blind bidding money to bid on players, and [2] an elimination phase, during which the lowest-scoring team each week is eliminted from contention. The league lasts until all teams but one have been eliminated, when the final team standing is crowned the champion.
When a team is eliminated, all players from that team get placed back on the waiver wire for other teams to bid on.